Womens Nina Waxed Bala Moccasin
Product code 7002TB0 - Brown _ Gum
Free UK Shipping Available

Womens Nina Waxed Bala Moccasin Reviews
Average Rating
Rated 3.5 out of 5 based on 6 reviews.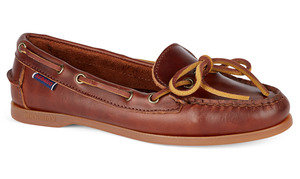 Product: Womens Nina Waxed Bala Moccasin
Colour: Brown _ Gum
Price:
£
100.00
Fiona Rooney

The order was dealt with in good time, bearing in mind I live in Australia. Unfortunately I received a pair that were 1/2 a size too small. Am hoping through daily wearing, they will stretch a bit to make them a bit more comfortable! There was no other option, as I could return them from Oz and get a replacement pair before I leave to go overseas.

Posted on 20th June 2022

Angela Zwartjens

Great shoes, just caused blisters wearing them as the back is so hard. Service was great.

Posted on 06th June 2022

Diana Goodliff

My son and I have been emailing you to be able to return my she's that are too small. You don't pick up the phone and you don't answer emails. Is this the best you can do. Sebago used to be the best shoes with the best customer service. Shame it isn't any more. Sorry about ranting on but I feel very sad.

Posted on 10th June 2021

Tyas Huybrechts

I absolutely love these shoes! They are comfortable and nice to wear. But most of all I love Sebago shoes for their durability. Buying a pair is buying them for life, because they will stay with you for a very long time!

Posted on 29th April 2021

Cerys Burrows

This is a lovely shoe but the low cut at the front meant it was too wide for my slim feet and hence I returned it. Not heard yet from Sebago

Posted on 10th December 2020

Sally Walker

This was my usual size of previous pairs but these were tight all around. Have returned, as yet not notified of receipt. Unfortunately now sold out of next size up as would have like to exchange 🙁

Posted on 09th November 2020
Powered by
Description
All eyes will be on you with the Sebago Nina Waxy casual shoes. Oiled leather upper. Slip-on loafer construction.