Womens Nina Waxed Bala Moccasin
Blue Navy _ Gum
Womens Nina Waxed Bala Moccasin Reviews
Average Rating
Rated 3.8 out of 5 based on 20 reviews.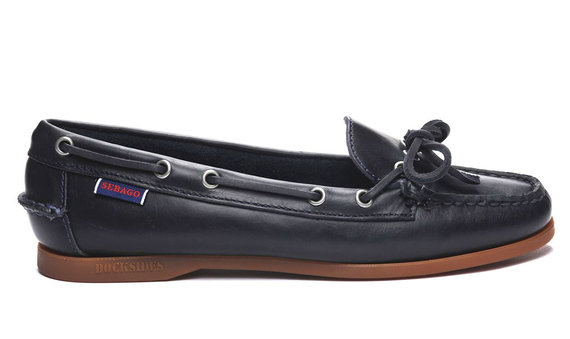 Product: Womens Nina Waxed Bala Moccasin
Colour: Blue Navy _ Gum
Price:
£
110.00
£
55.00
50% off
Moira Black

A little bit on the tight side despite me measuring my foot, but as good quality leather feel they will stretch in time and can then tighten with the lace.

Posted on 24th September 2023

Julie Foulds

The real deal !! Proper deck shoes , fantastic quality. Service superb, I needed to exchange for a larger size. Very easy and quickly sorted. Will definitely buy again and recommend to others

Posted on 23rd September 2023

Julie Townsend

Lovely shoes. Wish you still made W fittings.

Posted on 10th July 2023

Anne

Comfortable and true to size

Posted on 6th July 2023

Susie

Just what was wanted to replace an old pair.

Posted on 4th July 2023

HelenAnn

Loved the shoe, but far too narrow. Was told by my son that "Sebagos always adapt to your feet" however, the soles were so narrow that even if this did happen after a painful wearing in period, the sides of my feet would have been well outside of the sole area. Reluctantly I returned them, as they were great shoes otherwise. I can't believe that many people have feet as narrow as these shoes are designed for. The return service worked well, but should have been free. To be fair, I was aware that it wasn't before I ordered. Thanks anyway. Helen

Posted on 22nd June 2023

mrs j jackson

This shoe was not comfortable for my feet

Posted on 9th June 2023

Tim Cotterell

Exactly as expected. Great colour. Great fit. Great price.

Posted on 8th June 2023

Mrs C-J

Returned these as the inside was so rough I couldn't possibly wear them. Looked pretty, nice style.

Posted on 7th June 2023

Julie

Excellent service. Lovely shoes. Quite hard to start with but soon soften

Posted on 28th May 2023

Sara

Great looking high quality loafers however they took ages to break into and are super stiff and not comfortable at all! I had to buy foam protectors to put in them.

Posted on 27th May 2023

Mrs Thomas

Would be much more comfortable with fill insole lining.

Posted on 29th April 2023

LM

I could tell the product was high quality, also packaged well but they dug into the back of my heel where the tendon attaches and was painful. Not uncomfortable but really painful when just standing still. The shoe fitted but the stiffness in this area of the shoe caused the pain. I couldn't tolerate talking steps. Disappointed and not willing to try another style due to the return postage costs.

Posted on 20th April 2023

CJG

Not as good as my last pair, seem smaller

Posted on 12th April 2023

Bella

I loved the design and quality of the shoes, unfortunately they did not fit.

Posted on 20th March 2023

customer

Quite perfect

Posted on 5th February 2023

Kath

A really comfortable moccasin. I already have a blue pair and love them so much I ordered the brown. Also an excellent speedy service from Sebago. Thank you.

Posted on 30th January 2023

MALCOLM CHANT

Unfortunately the two pairs I tried did not fit I seem to fall between then

Posted on 25th December 2022

Mrs J Percival

Fab quality and wearing in nicely 😀

Posted on 25th October 2022

Fiona Rooney

The order was dealt with in good time, bearing in mind I live in Australia. Unfortunately I received a pair that were 1/2 a size too small. Am hoping through daily wearing, they will stretch a bit to make them a bit more comfortable! There was no other option, as I could return them from Oz and get a replacement pair before I leave to go overseas.

Posted on 20th June 2022
Powered by
Product Features
Hand sewn with the finest craftsmanship to be the perfect footwear. They are designed around the finer feminine foots and made of a unique piece of hot stuff buffed leather conditioned with a rich cominabtion of oils and waxes and enhanced by a natural polish quality.
With a leather sock lining, 360 degree rawhide adjustable lace system and great non-marking antislip rubber soles they offer a stable grip in all weathers and still look elegant!